One of the first magical beings that Harry Potter meets in Harry Potter and the Sorcerer's Stone is in Gringotts Bank in Diagon Alley. Brought in by Hagrid to access his family vault, Harry encounters the Head Goblin behind his desk.
This 1:6 scale Goblin features an all-new portrait of Warwick Davis made up as the Head Goblin and dressed in his black suit.
This figure comes in three different sets.
– The Normal version includes just the Head Goblin.
– The Deluxe version includes the Head Goblin and his bank desk with extra accessories.
– The Twin Pack includes the Head Goblin and Griphook in his formal bank suit.
– The Bank Desk can also be purchased separately.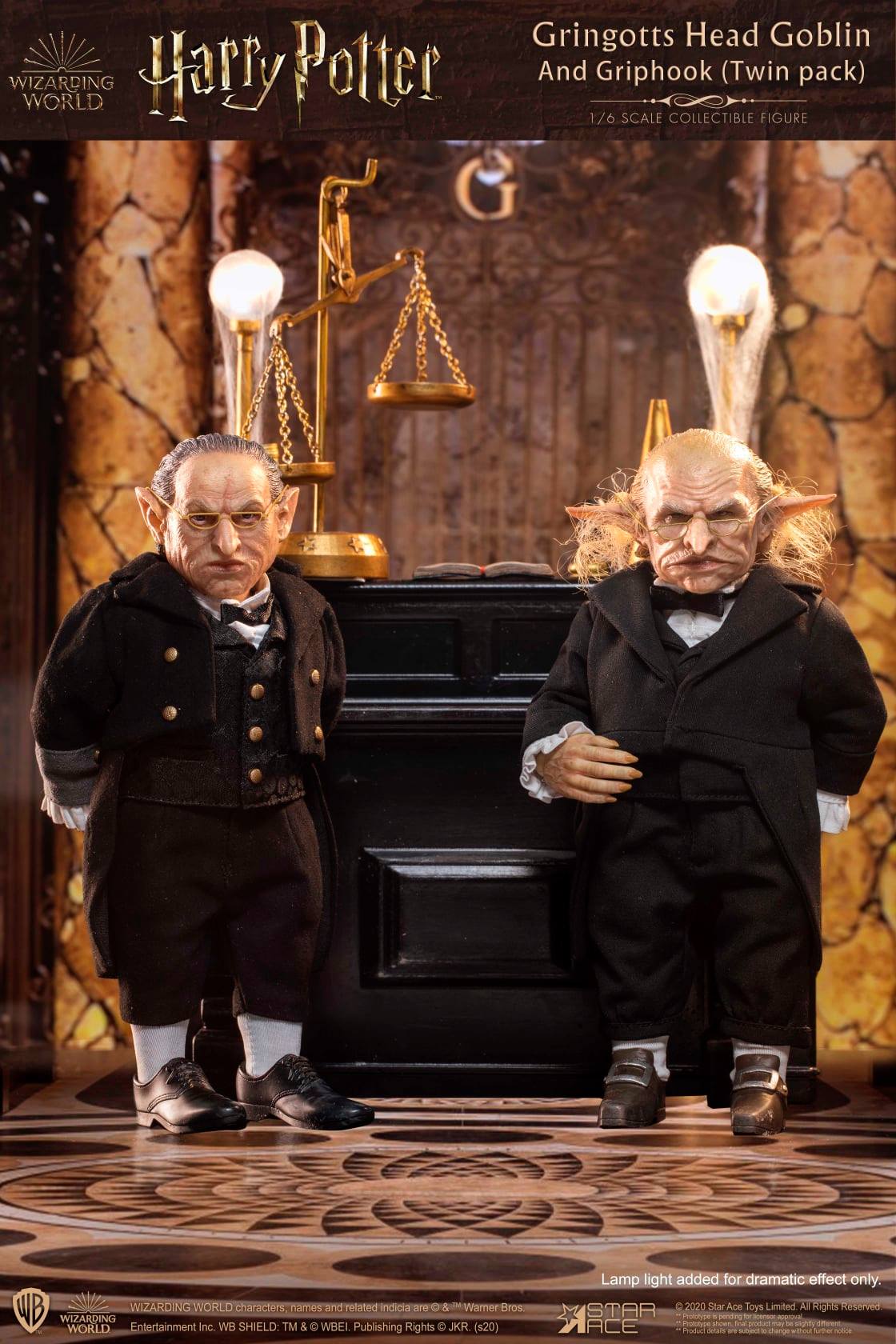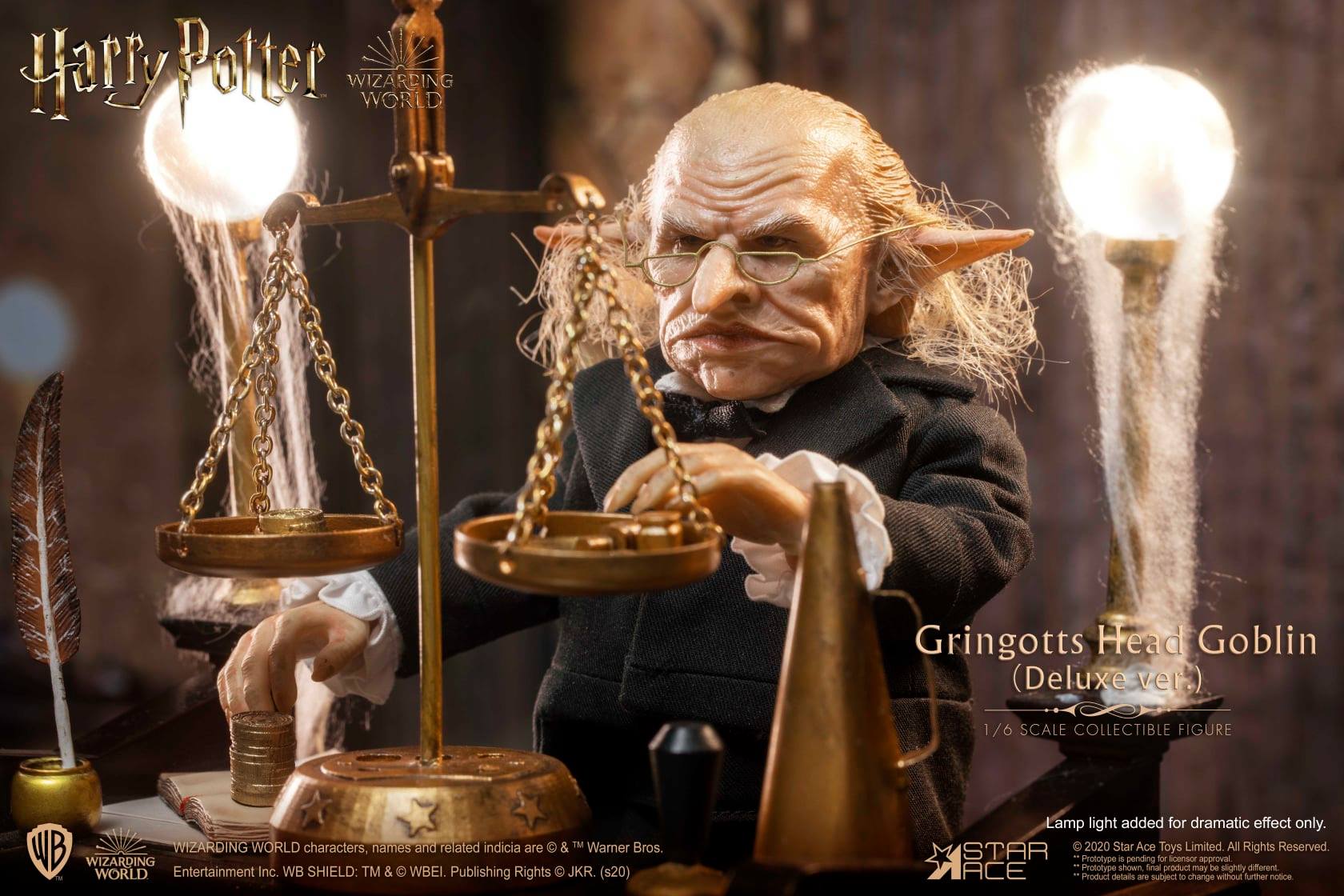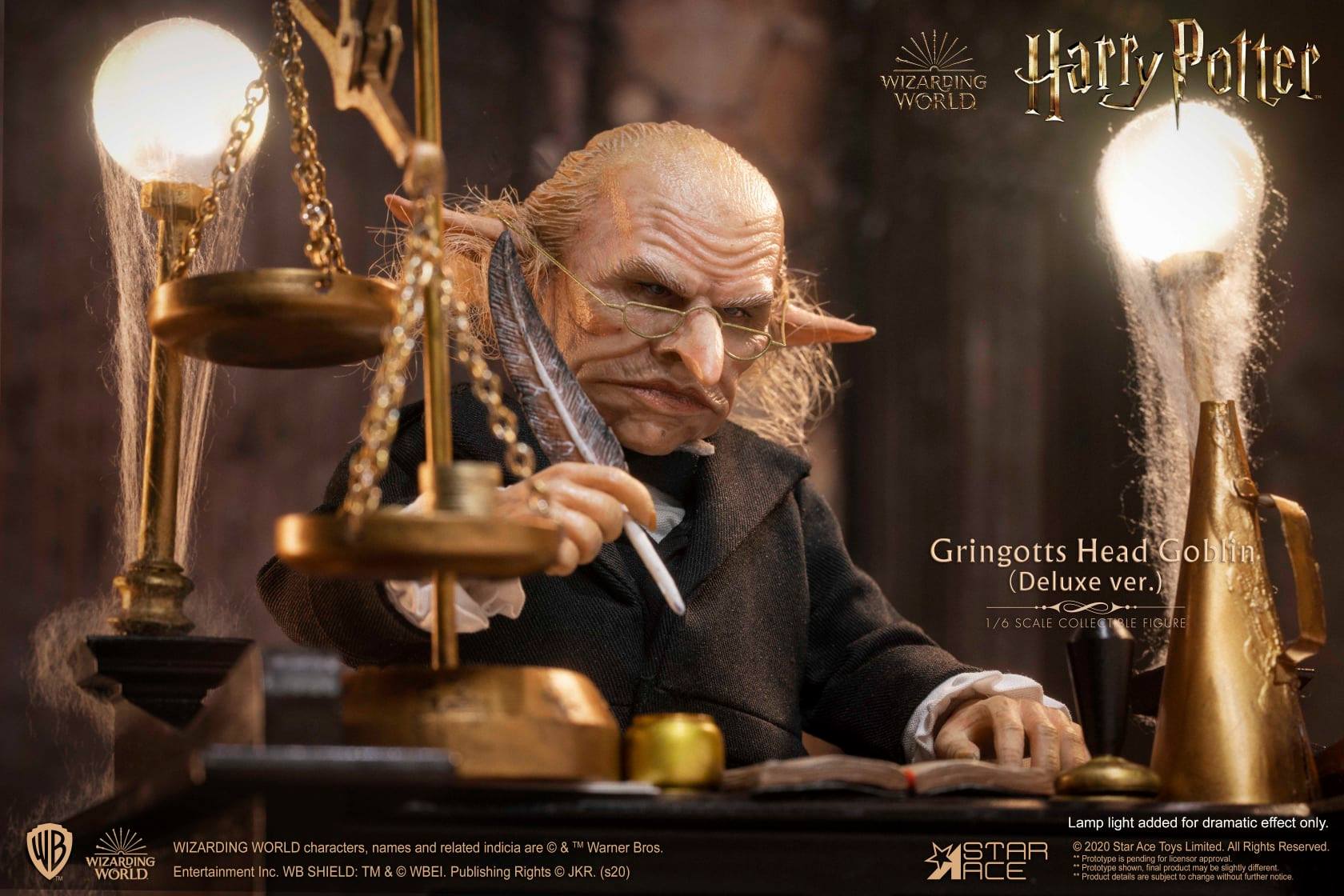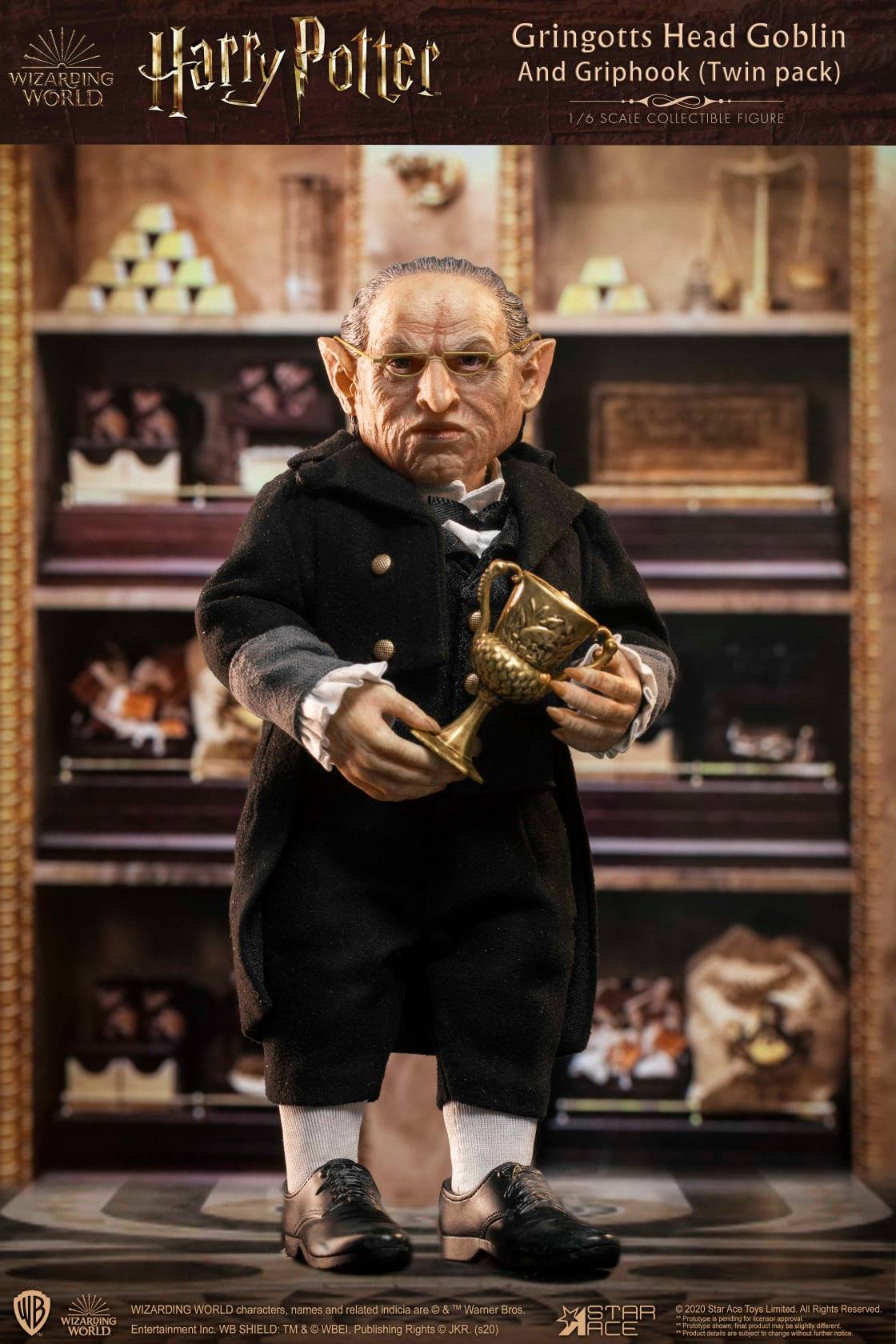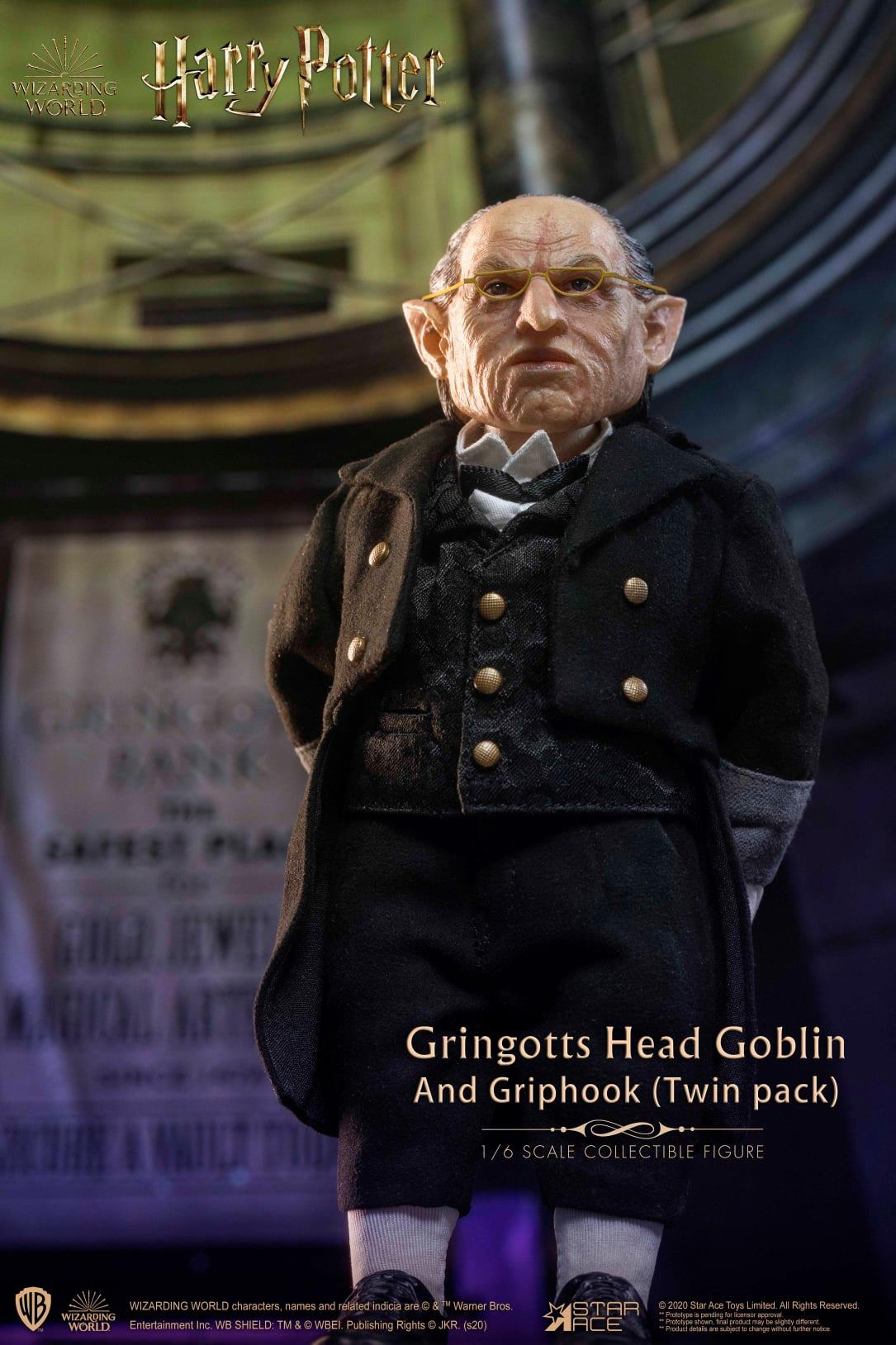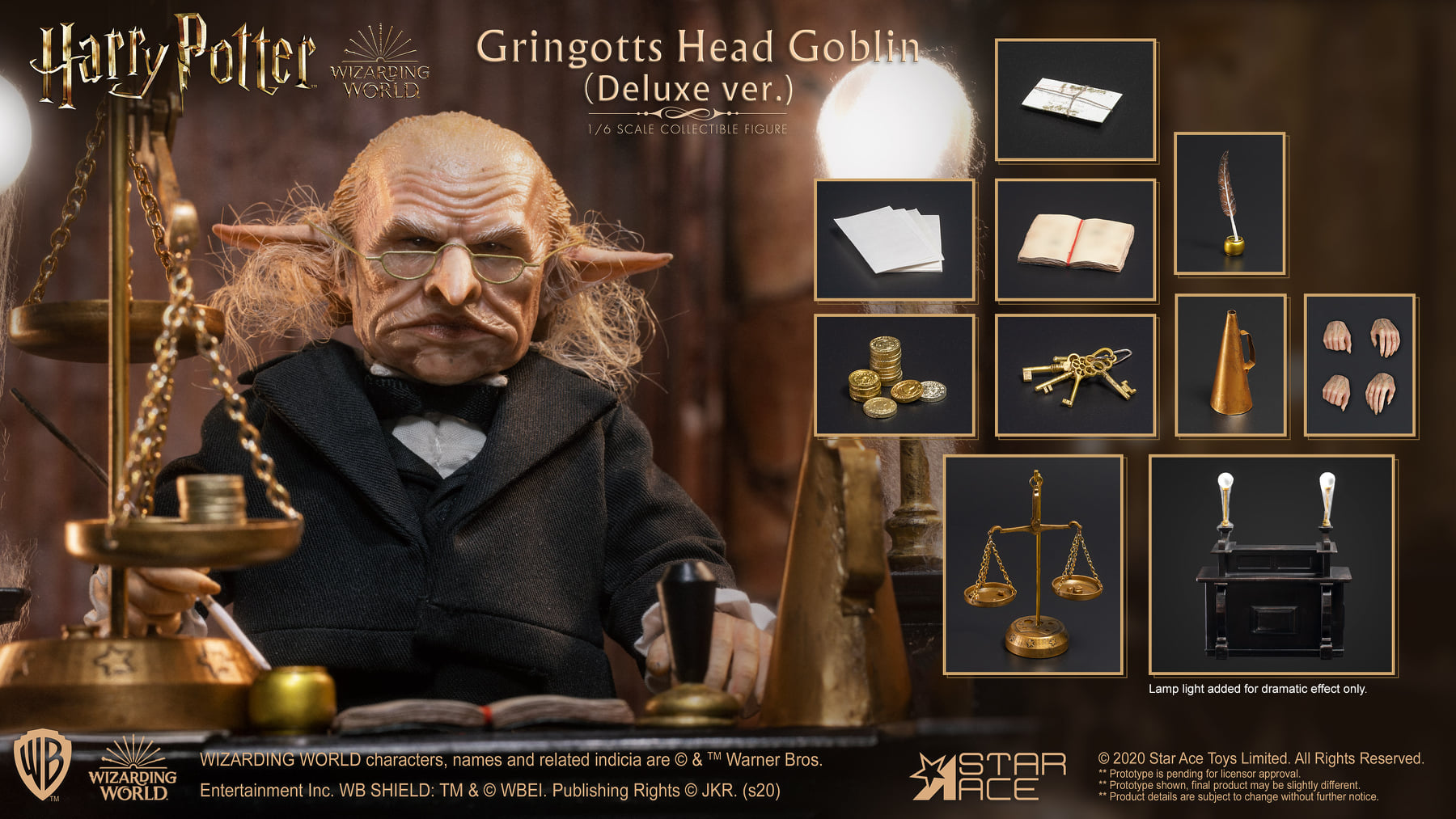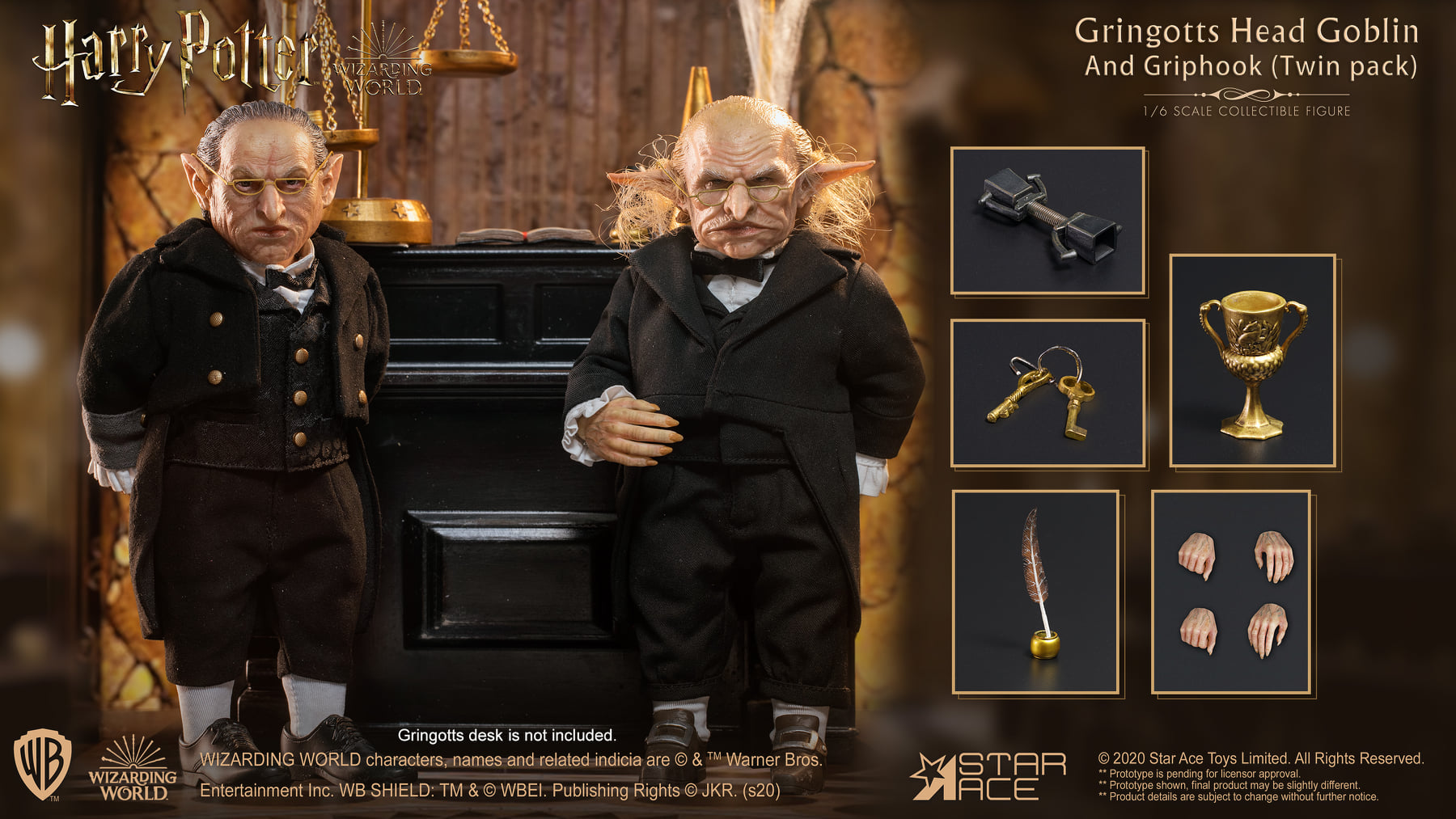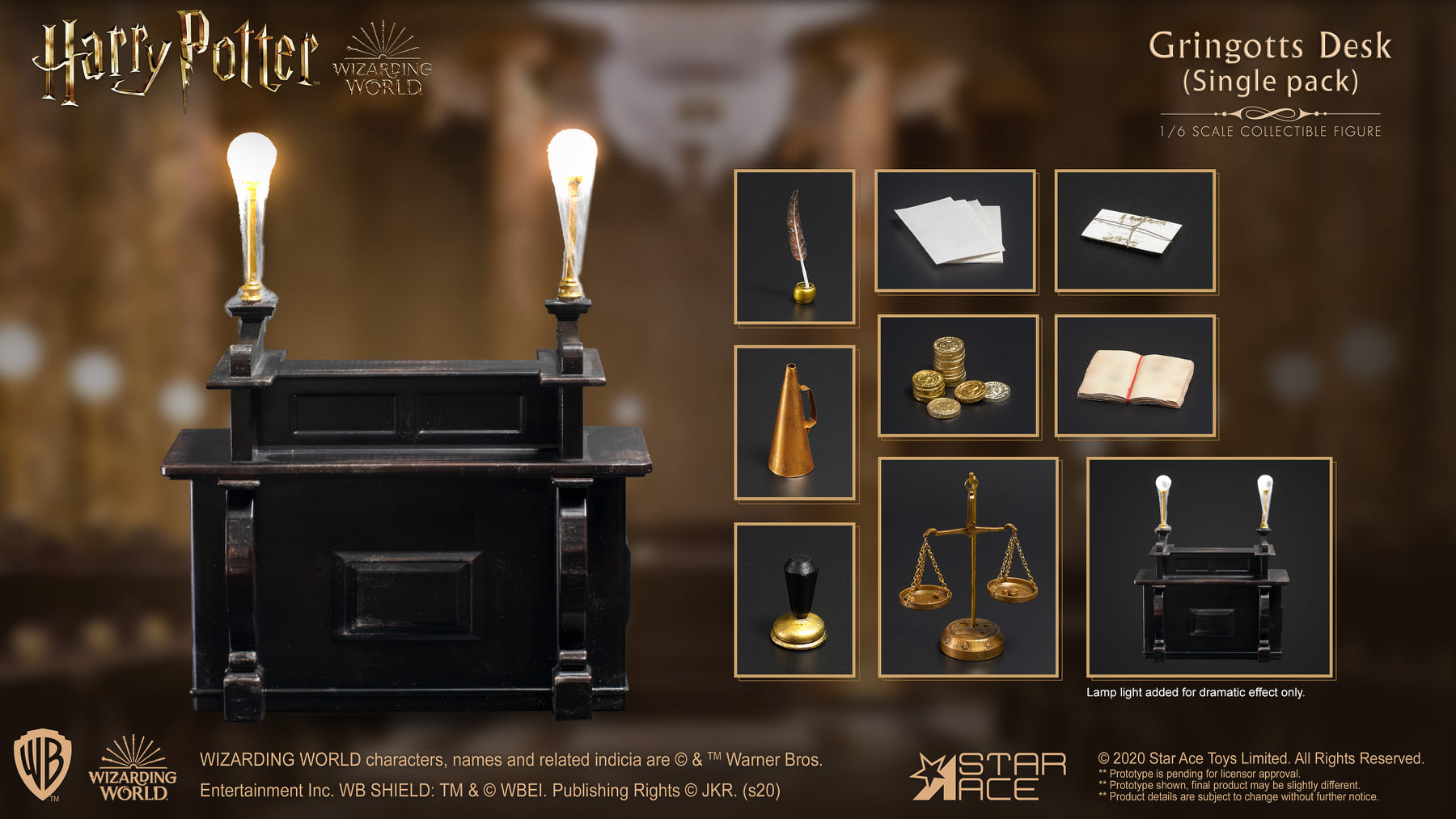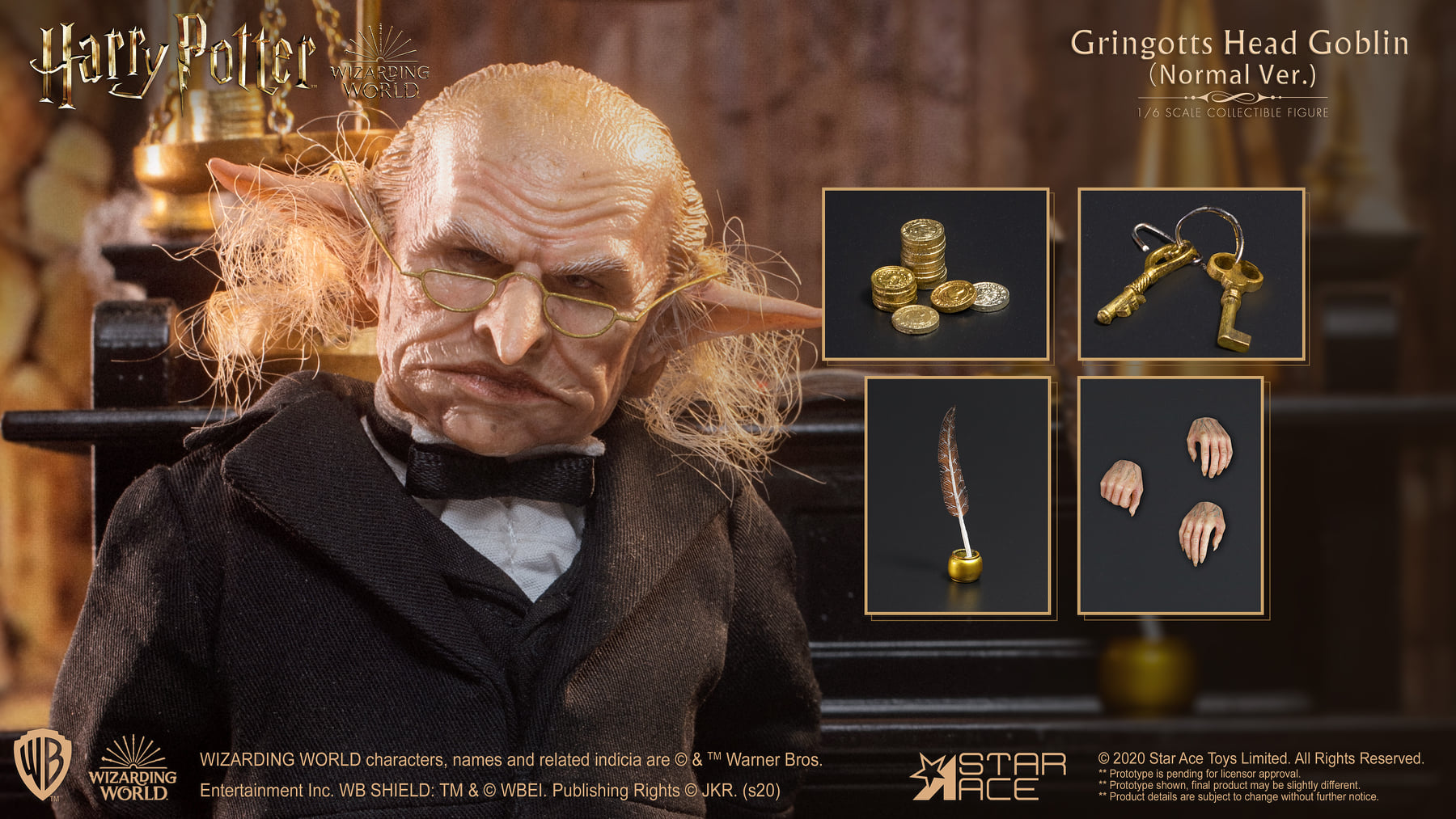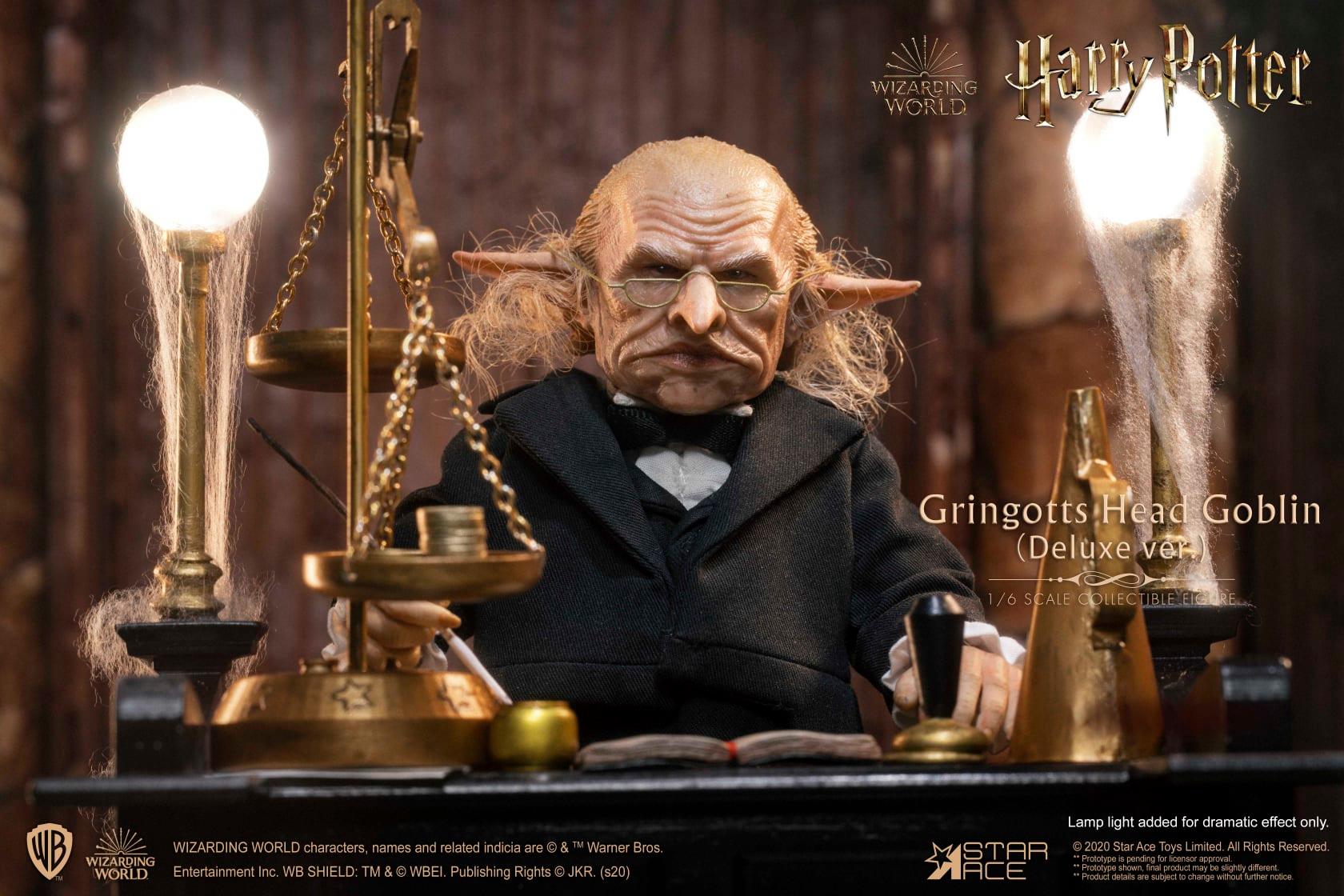 This figure includes:
– 1:6th scale all new articulated body, approximately 19.5 cm tall.
– Fully realized authentic likeness of Warwick Davis as Gringotts Head Goblin in the movie Harry Potter and The Sorcerer's Stone with accurate facial expression and detailed skin texture. Each head sculpt is specially hand-painted.
Hands for:
Gringotts Head Goblin :
Three (3) / [Four (4) for (DX ver.)] interchangeable hands including:
– One (1) pair of open hands
– One (1) right hand for holding coins & stamp
– One (1) right hand for holding writing quill (deluxe ver. only)
Griphook (for twin pack version):
Three (3) interchangeable hands including:
– One (1) pair of open hands
– One (1) right hand for holding the clanker
Costume:
Gringotts Head Goblin:
– White Shirt
– Bow Tie
– Black vest
– Black Jacket
– Black Trousers
– White Socks
– Brown Shoes
Griphook (Twin pack version):
– Striped Shirt
– Black Trousers
– Patterned Black Vest
– Black Jacket
– Black Socks
– Black Shoes
Accessories:
Gringotts Head Goblin (Normal ver.):
– Wireframe Glasses
– Quill pen
– Ink pot
– Keys x 2
– Gold Coin (2 versions)
Additional accessories for Gringotts Head Goblin (Deluxe version):
– Megaphone
– Bank stamp
– Account book
– Additional keys x 3 (total = 5 keys)
– Scales with weights
– Gringotts Desk
Griphook accessories (Twin pack)- Helga Hufflepuff's Cup- Gringott's Bank Clanker
Gringotts desk (single pack) accessories (SA0092C) include:
– Polyresin desk
– Megaphone
– Quill pen
– Ink pot
– Bank stamp
– Scales with weights
– Gold Coin (2 versions)